Hahn-Bin at the Playhouse
"Hahn-Bin at the Playhouse Project Benefit Concert on Saturday, June 12th – an Appreciation"
By Anita Thacher, artist/filmmaker
Pollock-Krasner Foundation, Inc. Grant recipient, 2010
Represented by Butler Fine Art Gallery, East Hampton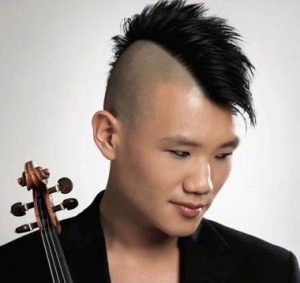 For the past six years there has been a unique gift to those lucky enough to attend the Benefit Concert at The Playhouse on Huntting Lane in East Hampton.  This past Saturday evening, June 12th, we were stunned by the craft of this year's featured performer, the prodigiously gifted 22-year old violinist, Hahn-Bin.  More on Hahn-Bin in a moment…
We were also enchanted by the fresh and intense talents of three local high school Playhouse Project award recipients from the South Fork: Kyra Christopher, soprano, a freshman at Pierson High; Maxfield Panish, violinist, a sophomore at East Hampton High School; and Shanna Polley, composer/pianist – a junior at the Ross School.  Their performances were touching and totally professional.  Did we know that such students exist in our midst?  Every year The Playhouse Project discovers students to celebrate with its Master Class and awards performances.  The Playhouse Project provides financial empowerment to young musicians (two top winners receive $1000 each; and a number of Judges Merit winners receive $250 each) as well challenging, rewarding performance experience at the gala Benefit Concert each year in June.
The mentoring and performance opportunities of the Playhouse Project Master Class, Open Workshop, and Benefit Concert are offered to all students on the South Fork free of charge.  The annual Benefit Concert helps support the work of the Playhouse Project, which was founded by Richard Brockman and Mirra Bank Brockman, and is fiscally sponsored by the New York Foundation for the Arts.
At The Playhouse – an iconic residence/arts venue on the South Fork, and a must-see structure built for the performing arts in 1916 by Mrs. L.E. Woodhouse, who also created Guild Hall and the East Hampton Library – this year's Benefit Concert audience witnessed a performance by a genius.  Or, perhaps Hahn-Bin is an angel.  A recent Juilliard graduate, and special protégé of Itzhak Perlman, as well as top winner of this year's Young Concert Artists auditions, Hahn-bin took us with him into every piece of music he played, phrase by phrase, note by note, and brought us to a new realization of how deeply one can love great music.  His peerless technique and risk-taking physical performance guided us on this magical journey.  The vividness and care with which he presents himself in every detail, along with his angelic face, tell us that, rather than playing music, the music 'lives' him.  Each selection he offers is an aspect of his autobiography; and it is wondrous to experience.
Hahn-Bin shares this bounty as he performs.  After the concert someone asked Hahn-Bin – who was born in Seoul, grew up in Los Angeles, then came to Juilliard in New York – where it is that he calls 'home.'  Hahn-Bin replied that 'home' is wherever he is performing.
The Playhouse Project discovers and presents such spellbinding performers every year.  The Benefit Concerts are unlike anything in the Hamptons, and are NOT to be missed!