The Masterclass
Now entering its fifth year, the Playhouse Project invites gifted high school students to interact with an artist of national repute. For the forth year, we are thrilled to have renown conductor, Geoffrey Simon holding the baton in our Master Class program.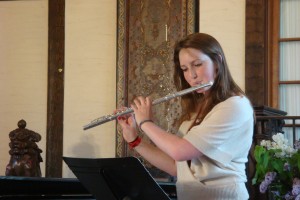 The Playhouse Project masterclass runs over two days and is structured so that each of the Young Artists gets the opportunity to perform and work with Geoffrey Simon one on one. The sharing of knowledge and expertise is intended to guide and inspire young musicians who come to the Playhouse. Each masterclass is in front of an audience made up of other students, educators, parents and community members, making the insightful comments and analysis valuable for everyone in attendance. Simon's flair for entertainment and humor adds a great sense of joy and fun to the masterclass.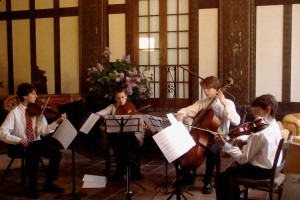 The Elizabeth Brockman Award in Classical Music
The centerpiece of the Playhouse Project is The Elizabeth Brockman Award in Classical Music. The award includes a benefit concert at the Playhouse and presentation of two grants of $1,000 each. The grants are awarded to two high school students studying on the South Fork. They are selected on the basis of the Master Class.
The Teachers
Geoffrey Simon
Australian conductor Geoffrey Simon is resident in London and has appeared there with the London Philharmonic Orchestra, London Symphony Orchestra, Philharmonia Orchestra, Royal Philharmonic Orchestra, London Chamber Orchestra and English Chamber Orchestra.
Internationally, he has appeared with the American, Atlanta, City of Birmingham, Bournemouth, Fort Worth, Milwaukee, St Louis, Sapporo, Shanghai and Tokyo Metropolitan Symphonies, the Israel, Moscow, Munich and New Japan Philharmonics, The Residentie Orchestra of The Hague, the six major Australian orchestras and the Australian Opera.
His music directorships have included the Albany Symphony Orchestra (New York), the Sacramento Symphony (California) and the Orquestra Simfònica de Balears "Ciutat de Palma" (Mallorca). He is Music Director Emeritus of the Northwest Mahler Orchestra in Seattle, with which he has performed the Mahler cycle and Messiaen's Turangalîla Symphony. He is Artistic Director of the Swiss Global Artistic Foundation (London and Montreux) and a jury member for Young Concert Artists in Paris, Leipzig and New York.
Geoffrey Simon was a student of Herbert von Karajan, Rudolf Kempe, Hans Swarowsky and Igor Markevich, and a major prize-winner at the first John Player International Conductors' Award. He has made over forty recordings for a number of labels, combining discoveries with familiar works by Tchaikovsky, Respighi, Borodin, Mussorgsky, Smetana, Bloch, Grainger, Debussy, Ravel, Saint-Saëns and Les Six. Amongst the contemporary composers he has recorded are Barry Conyngham, John Downey, Paul Patterson and Zhou Long.
For his own label, Cala Records, Geoffrey Simon has brought together large ensembles of single instruments—violins, violas, cellos, double basses, horns, trumpets and trombones—drawn from London's leading solo and orchestral musicians. The recordings have attracted interest amongst instrumentalists worldwide and The London Cello Sound has performed live for H.M. The Queen and H.R.H. The Duke of Edinburgh.
Simon Powis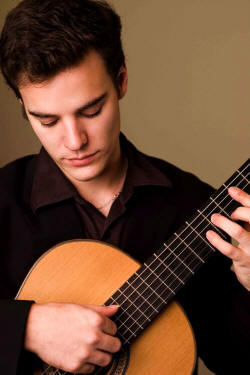 The Australian classical guitarist Simon Powis enjoys a truly international career. In the past years he has performed throughout the United States, Sweden, Belgium, England, Germany, Austria, Spain, Canada, Liechtenstein, and, of course, his home country of Australia. As a result of these travels, he has collaborated with a wide range of artists, such as Ian Swenson violin, Eden Stell Duo guitar and Karin Haglund piano. In addition to a diverse array of projects, such as recording movie soundtracks, touring with musicals and charity fundraisers, he has premiered over thirty new compositions for guitar by contemporary composers.
Mr Powis commenced musical studies at the age of five, performing in brass bands on the cornet. Several years later, after being presented with his first guitar, he never looked back and refined his skills at the Sydney Conservatorium of Music, London's Royal Academy of Music and now at the Yale School of Music in the United States. At Yale he is completing a Masters of Music in performance with the world renowned pedagogue and performer, Ben Verdery. His studies at Yale are generously funded by the Sydney University Traveling Scholarship. Having success in numerous competitions, such as the 2MBS Young Performer of the Year Award and the Sydney Classical Guitar Competition, Mr Powis was afforded the opportunity to undertake studies with some of the world's finest classical guitarists. Masterclasses with David Russel, Pavel Steidl, Aniello Desiderio and Ignacio Rhodes have been major influences in his development, and this summer, courtesy of the Australian Council for the Arts, he will attend the famous Siena master course with Oscar Ghiglia. Now based in the United States and employed as a guitar teacher at Yale University, Mr Powis continues to promote Australian music through collaboration with Australian musicians and composers. For more information, please visit www.simonpowis.com.
Barbara Conrad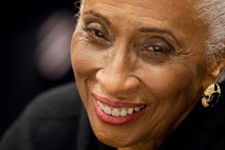 Barbara Smith Conrad is a mezzo-soprano whose distinguished career has touched the lives of audiences around the world.
Barbara performed with the Metropolitan Opera for eight years, from 1982 to 1989, and has performed leading operatic roles with the Vienna State Opera, Teatro Nacional in Venezuela, the Houston Grand Opera, New York City Opera, Pittsburgh Opera, and many other international opera houses throughout the U.S., Canada, Europe, and South America. Under the direction of some of the world's leading conductors, including Maazel, Bernstein, and Levine, she has performed much of the mezzo-soprano concert repertoire with the world's greatest orchestras, including the New York Philharmonic and the London, Boston, Cleveland, and Detroit Symphonies. Barbara continues to complement her performing activities with artist residencies and master classes, establishing herself as one of the foremost builders of voice both in the United States and abroad. She is the co-director and co-founder of the Wagner Theater Program at the Manhattan School of Music, and she maintains a private vocal studio in Manhattan.
Kate Baker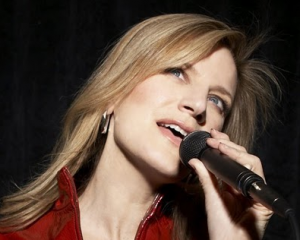 Kate baker's love of music is the basis for two remarkable talents: singer and educator.
Kate Baker's distinct and authentic sound enchants audiences across the globe. Her vocal style and masterful lyrical expression have launched her successful career as one of today's most coveted voices. Her hypnotic sound resonates with echoes of diverse inspirations from jazz, Brazilian, Latin, and blues music. Newsday has called her "brilliant," The Daily Gazette has raved about her "exquisite, captivating stage persona" and The Los Angeles Times has named her "impressive." At home with a Cole Porter standard or an Antonio Carlos Jobim composition, crooning in English or Portuguese, Kate Baker embodies the musician's singer.
Kate's contemporary vocal technique is the product of over 25 years of training and performance. Kate is a master in vocal pedagogy, from the Art of Bel Canto to the Masters of Voice Science. She enables students to develop the most up to date singing technique. Since mind and body constitute the instrument, Kate's teachin intertwines Alexander technique, yoga and Feldenkrais disciplines.